Derby Vending
Vending machines and services for Derby and the surrounding area
Vending in Derby with Local Vending

Local Vending is proud to have been providing great vending machines and services in Derby for more than 30 Years.
Our service vehicles operate in Derby every day, delivering our vending supplies and ingredients and providing our renowned level of service to our Derby businesses and customers.
We offer a range of a range of truly local vending services throughout the city, providing a range of coffee and tea vending machines, hot or cold drink vending, snack vending, water coolers and other options to help you deliver what your customers, staff or guests need, wherever you are in Derby or the surrounding areas.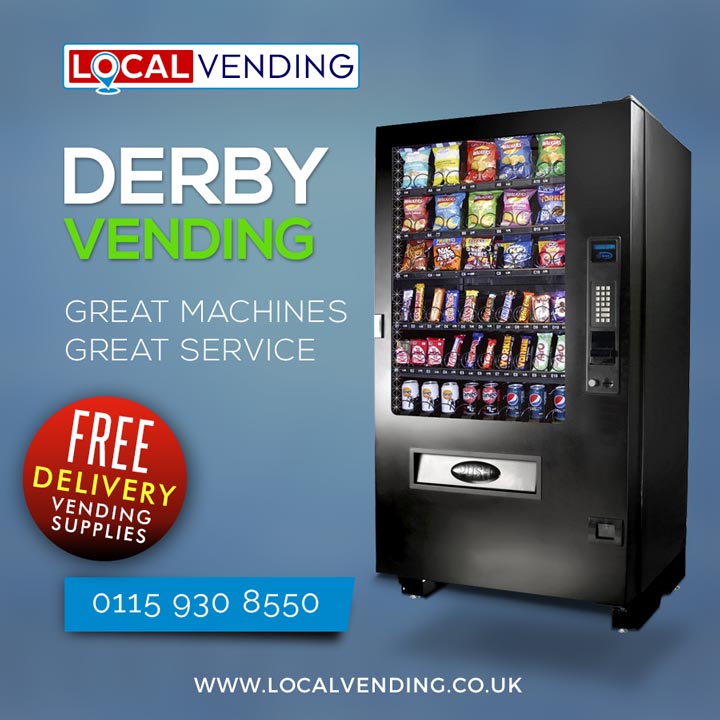 A fantastic range of vending machines.
Great customer service.
No contract vending.
Terrific range of vending supplies, ingredients and sundries, delivered the same day.
Our vending area
Local Vending's area of operation covers an area of over 1200 square miles.
From Derby to Chesterfield and from Nottingham to Burton, we provide vending services in Derbyshire, Nottinghamshire, Staffordshire and Leicestershire.
The areas we provide our vending services include:
Derby, Nottingham, Ashbourne, Long Eaton, Sandiacre, Nottinghamshire, Ilkeston, Chesterfield, Mansfield, Derbyshire, Stapleford, Burton upon Trent, Belper, Swadlincote, Heanor, Coalville, Hucknall, Matlock, Eastwood, Loughborough, Tutbury, Staffordshire, Sutton in Ashfield, Bingham, Ashby de la Zouche, Alftreton, Clay Cross, Keyworth, Melbourne, Ripley, Leicestershire, Kirkby in Ashfield, Wirksworth and the East Midlands.
We normally cover an area of up to 20 miles (32km) from our base in Ilkeston, Derbyshire, DE7.
Our area postcodes
Derbyshire Postcodes
The Derbyshire postcodes we cover: DE1, DE11, DE14, DE15, DE21, DE22, DE23, DE24, DE3, DE4, DE5, DE55, DE56, DE6, DE65, DE7, DE72, DE73, DE74, DE75, DE99.
Nottinghamshire Postcodes
The Nottinghamshire postcodes we cover: NG1, NG10, NG11, NG12, NG13, NG14, NG15, NG16, NG17, NG18, NG19, NG2, NG20, NG21, NG25, NG3, NG4, NG5, NG6, NG7, NG70, NG8, NG80, NG9, NG90.
Staffordshire Postcodes
The Staffordshire postcodes we cover: S40, S41, S42, S44, S45, S49.
Leicestershire Postcodes
The Leicestershire postcodes we cover: LE11, LE12, LE55, LE6, LE65, LE67.
Call us for vending in Derby

Our Business Hours
Monday - Thursday - 9am to 4pm
Friday - 8:30am to 12pm
Sunday / Sunday - Closed
Great service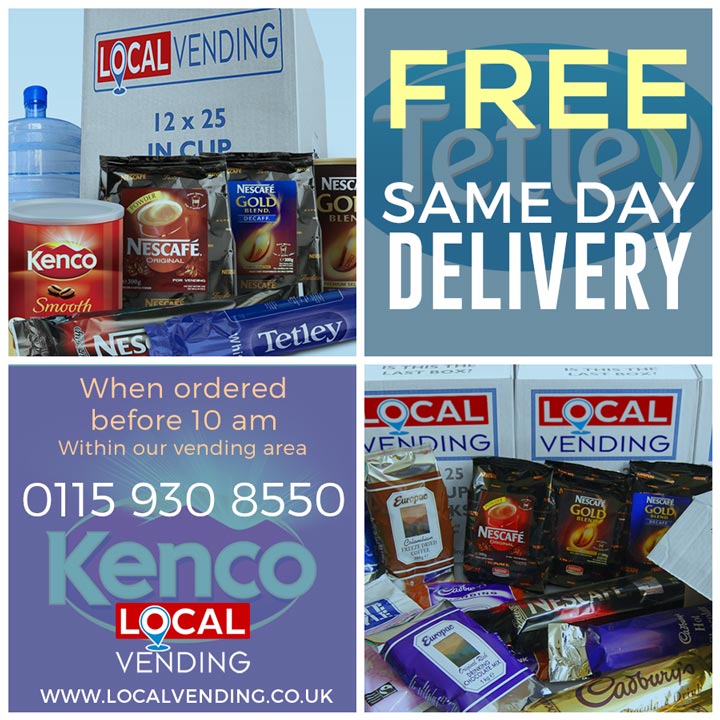 Great machines
Coffee machines and brewers
Tea, Coffee and hot drink vending machines
Snack and food machines
Combination, snack, can and bottle machines
Water coolers and systems
Can and bottle vending machines
Call 0115 930 8550 and speak to our friendly staff about vending in Derby.

Quality vending ingredients
delivered free

the same day * throughout Derby

Free same day delivery to Derby on all our vending ingredients and supplies.

We can deliver your vending supplies the same day* from our superb range of quality vending ingredients and supplies.

* Free same day delivery on all orders received before 10 am within our vending area.

Call our team to order your supplies and they can give you our latest prices and inventory.

* Call us before 10 am to get your order, with free delivery, the same day !

Great Derby vending services
Derby Vending Machines
Derby Coffee Machines
Derby Vending Suppliers
Derby Tea Machines
Derby Water Vending
Derby Snack Vending
Derby Can Vending
Derby Vending Services
Derby Bottle Vending
Derby Food Vending
Derby Vending Supplies
Derby Spring Water Supplies
Derby Water Coolers
Derby Vending Companies
Derby Water Machines
Derby Coffee Vending
Derby Snack Machines
Derby Water Supplies
Derby Vending Ingredients
Derby Coffee Ingredients
Derby Coffee Supplies
Derby Tea Vending Ingredients
Derby Tea Vending Supplies
Derby Tea Vending