Our Services
Great machines, great local vending services.
Local Vending's Services
Vending Services in Nottinghamshire, Derbyshire, Leicestershire, Staffordshire and the East Midlands.



Great Machines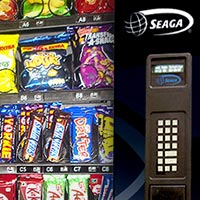 Local Vending has supplied vending machines to customers in Nottinghamshire, Derbyshire and the East Midlands for more than 25 years. From the smallest coffee maker to the largest suite of machines catering for a vast level of requirements, we have a tremendous range of versatile and economical machines on offer.
Our range of coffee machines, small desktop coffee and hot drinks machines, larger floor standing hot drinks machines should keep everyone on cue.
If you require refrigerated drinks machines we can offer a host of options and our snack and food machines can let you provide whole ranges of drinks, snacks and other saleable items. Our combination machines allow snacks, confectionery, bottles and cans to be offered from the same machine.
Other options include a range of bottled, plumbed water coolers are second to none, and our other water systems, including hot water boilers, completes a superior range of machines that cover just about any requirement.

Great Options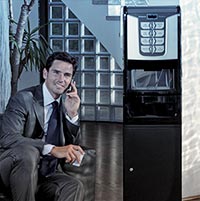 Providing suitable vending for your staff, guests or customers can sometimes be a daunting prospect.
Providing the high quality refreshments is at the heart of what we do. Local Vending's no contract and flexible approach to vending means we can always deliver what you want, when you need it.
Our same day delivery on supplies and ingredients means that you should never be without your favourite drinks and beverages.
No contracts for your vending machines - just set up an account with us
A dynamic and economical range of great vending machines
Great ingredients and supplies

with free delivery

, the same day*
Change your services as your needs change

Great Supplies and Ingredients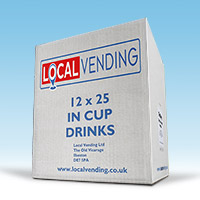 Our range of ingredients and supplies are tailored to provide a refreshing range of options, whatever you require.
Our free same day delivery service on all our supplies (when ordered before 10am) gives our customers' the service they want, when they need it.
With a range of name brands, speciality options and a selection of vending ingredients, our operators will keep you fully stocked and your machines delivering.
"Remember, call 0115 930 8550, before 10 am for FREE same day delivery."

Great Vending Servicing and Repairs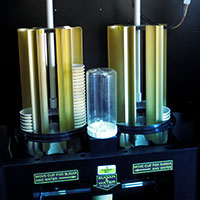 Keeping your vending equipment delivering it's drinks, snacks and confectionery is vital for your staff, guests or customers.
Our engineers and operators are fully trained to keep all your machines operating properly.
Our extensive stores of spare parts ensure that you will always be able to provide replacements when required.
Trained engineers and operators to keep your machines delivering.
Extensive spare parts service.
A range of options to keep your machines serviced.
Speedy repair service, should things go wrong.
Our area postcodes
Nottinghamshire Postcodes
The Nottinghamshire postcodes we cover: NG1, NG10, NG11, NG12, NG13, NG14, NG15, NG16, NG17, NG18, NG19, NG2, NG20, NG21, NG25, NG3, NG4, NG5, NG6, NG7, NG70, NG8, NG80, NG9, NG90.
Derbyshire Postcodes
The Derbyshire postcodes we cover: DE1, DE11, DE14, DE15, DE21, DE22, DE23, DE24, DE3, DE4, DE5, DE55, DE56, DE6, DE65, DE7, DE72, DE73, DE74, DE75, DE99.
Staffordshire Postcodes
The Staffordshire postcodes we cover: S40, S41, S42, S44, S45, S49.
Leicestershire Postcodes
The Leicestershire postcodes we cover: LE11, LE12, LE55, LE6, LE65, LE67.