Hot Drink Vending Machines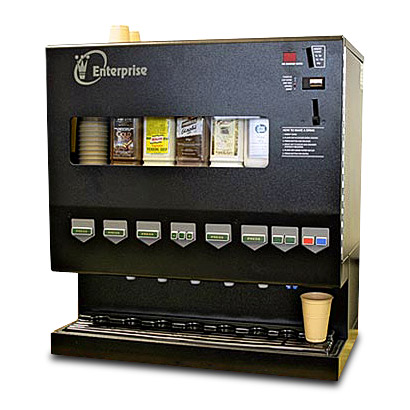 Enterprise
Enterprise on base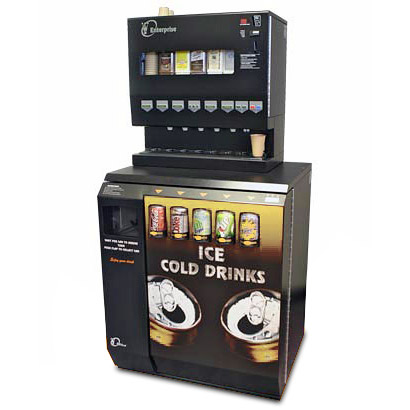 Enterprise with Icebreak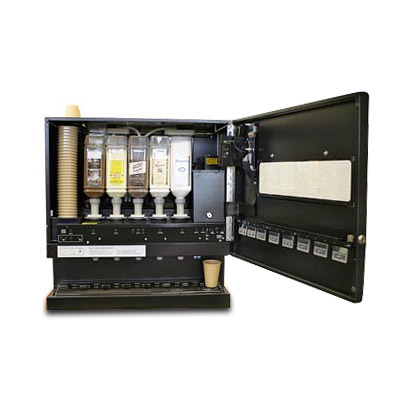 Enterprise showing internal detail
Enterprise
A 6 option loose ingredient vending machine
With up to 150 cup capacity.
A versatile loose ingredient machine.
Enterprise loose ingredient vending machine
The Enterprise II & III offer excellent value for money in loose ingredient dispensing machines.
Its compact size and superb styling is ideal for those customers who wish to use china cups or mugs, but recognize the cost savings and convenience that only a vending solution can bring.
Offers users a choice of up to 4 main and 2 secondary ingredients with added optional benefit of 2 syrup based cold drinks
User friendly push button system
The user simply positions their cup under each required ingredient and presses to dispense
Hot and ambient water as standard
Water selections can be programmed to provide either free on demand or one-touch automatic cup fill
Electronically controlled internal sugar dispenser
Internal plastic cup dispenser
Optional leaf tea module can be fitted as an internal or external option
Available as a free vend machine or fitted with full electronic coin mechanism
The coin mechanism on the Minicup Flex can be used to operate the IceBreak or SnackBreak Mini if desired
Option: Matching base cabinet providing large and convenient storage space and converting machine to floor standing
Option: Refrigeration module to operate between 3°C and 6°C
Option: Water pump for superior drink mixing (highly recommended)
Option: Side mounted In-Cup Leaf Tea dispenser
Option: High quality water filtration system for optimum drink quality
Compatible machines include:
Waterboy chilled water dispenser
Icebreak can vending machine
Snackbreak Mini snack vending machine
I-KEY cashless payment system
Capacity
Selections
4 main ingredients, plus 2 secondary
Syrups
2 optional syrup based drinks
Plastic cup dispenser (73mm)
150 cups total
Ingredients
Pre-packed bottles (1 Litre) or refillable jars (1.1 litres)
Specifications
Dimensions (w x h x d)
Machine
640 x 660 x 363mm
Machine & Cabinet
640 x 1570 x 550mm
Weight
Machine
44 Kg
Machine & Chiller
55 Kg
---
Related Products