Hot Drink Vending Machines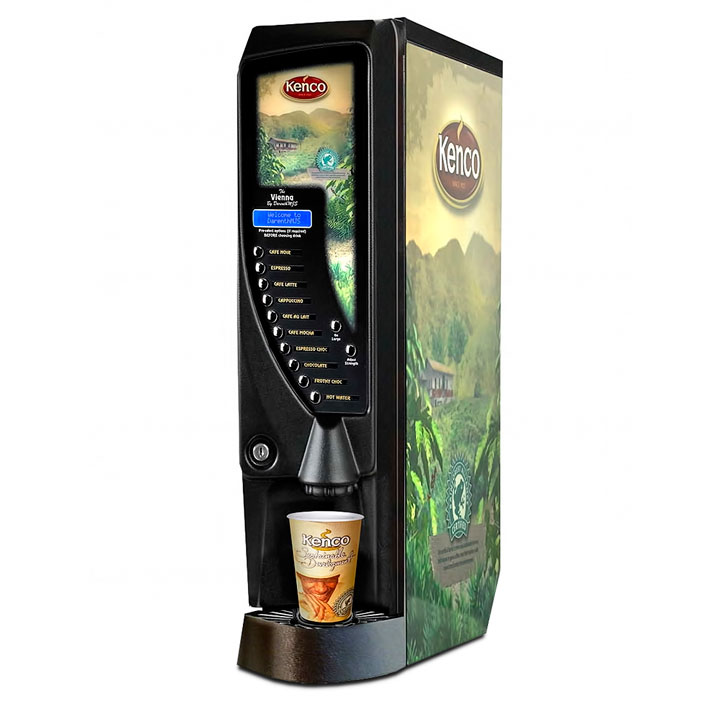 Vienna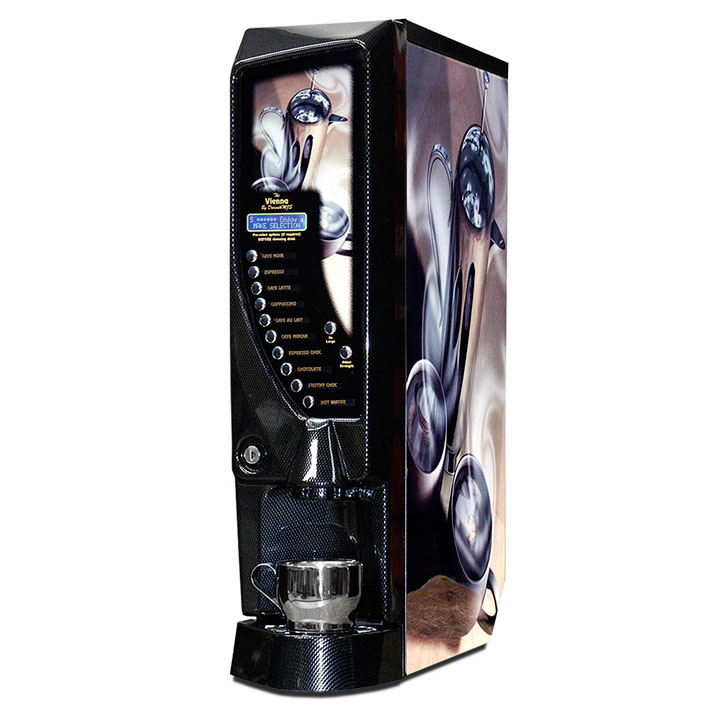 Vienna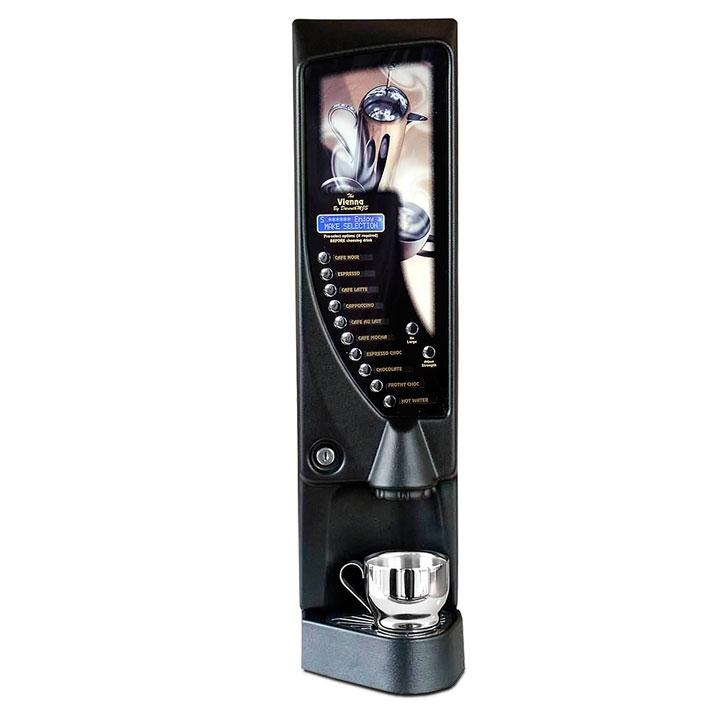 Vienna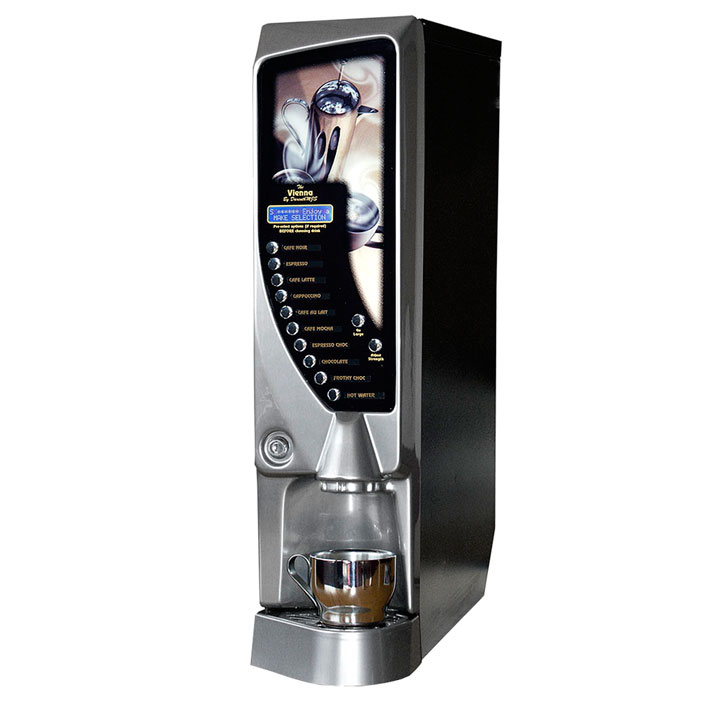 Vienna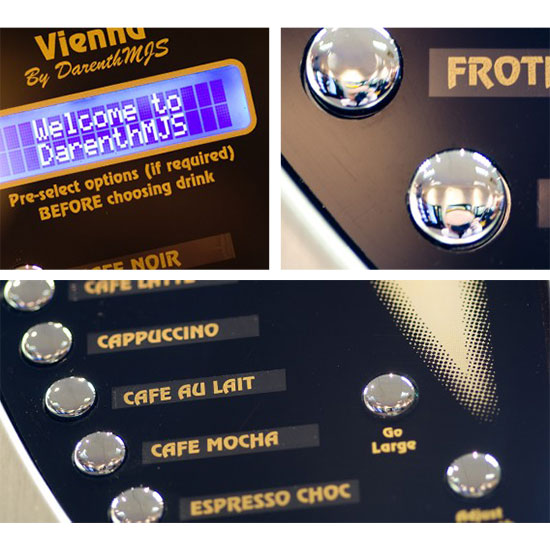 Vienna detail
Vienna
A 10 option hot drink vending machine
A fantastic small footprint vending machine.
Vienna hot drink vending machine
The Vienna represents a completely new approach to machine design. At less than 6.5 inches (165mm) wide this incredible, technologically advanced speciality machine will fit just about anywhere and delivers superb quality speciality drinks from just the push of one button.
The Vienna has been styled to complement the high quality beverages it produces. Available with a number of different coloured doors including a superb range of metallic effect high gloss presentations and all styles feature chrome effect push buttons and highly polished stainless steel trim as standard.
10 selections (9 drink choices plus hot water)
Brightly illuminated, attractive display panel to increase user appeal
Free flow or timed hot water dispense
Freely available on demand hot water (manual machine)
Less than 6.5" (165mm) wide-easily the slimmest fully featured machine on the market
Extremely user friendly, single button operation
Entirely re-configurable for any choice of drink selections
Large capacity drip tray fitted with high level sensor as standard
10 chrome effect, one touch drink selection keys
Optional "Go large" and ""strength adjustment" feature to enhance user choice
Built in flush facility to maintain interim hygiene and all components are easily removed for cleaning
Extra wide chocolate canister fitted as standard
Option: 'Strength Adjustment' – provides users with the additional benefit of adjusting drink strength to their own individual requirement
Option: 'Go Large' – provides the facility to give out different size portions from the same machine
Option: Complimenting condiment unit providing ideal storage for items such as stir-sticks, sugar sachets, milk jiggers, etc.
Option: Hygiene kit comprising of complete sets of mixing chambers, paddles, hoses, nozzles, etc.
Option: High quality water filtration system for optimum drink quality
Option: Water Connection Hose
Option: Compatible with a wide range of DarenthMJS slave machines to offer a complete refreshment solution
Option: Although predominantly designed as a free vend machine, the Vienna can be fitted with the I-Key cashless system to provide a complete payment or total cost control solution
Compatible machines include:
Waterboy chilled water dispenser
Icebreak can vending machine
Snackbreak Mini snack vending machine
I-KEY cashless payment system
Capacity
Selections
10
Ingredient canisters
Coffee & Whitener/Topping Canisters: 1.4 litres capacity
Chocolate: Extra Large 2.2 litres (ensures capacity is matched with other ingredients)
Specifications
Dimensions (w x h x d)
Machine
165 x 658mm x 515mm
Machine & Cabinet
560 x 1568 x 550mm
Machine & Condiment Unit
385 x 658 x 515mm
Weight
Machine
19 Kg
---
Related Products